Introducing the Prime Minister's Youth Business & Agriculture Loan Scheme
The Prime Minister's Youth Business & Agriculture Loan Scheme 2023 (Pakistan) aims to provide affordable financing options to aspiring young entrepreneurs and farmers. With easy eligibility criteria, flexible collateral requirements and low interest rates, it promises to promote business and agricultural growth.
PM'S Youth Loan Scheme In Pakistan 2023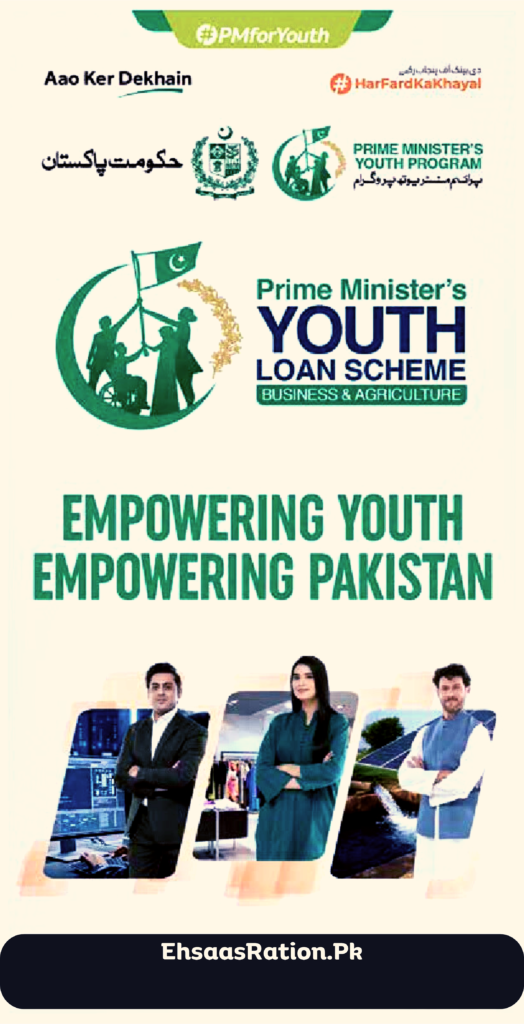 Objectives of the PM'S Youth Loan Scheme
The scheme has multiple objectives:
Promote an entrepreneurial culture and mindset among youth
Enable business startups and growth of SMEs
Support agricultural productivity and food security
Create employment opportunities for young people
Empower youth financially and socially
Drive economic growth and development
Eligibility Criteria For PM'S Youth Loan Scheme
To be eligible for the loan scheme, applicants must fulfill certain criteria:
Age Limit
For regular businesses, applicants must be between 21 and 45 years old.
For IT/e-commerce businesses, the lower age limit is 18 years while the upper limit remains 45 years.
In case of companies and partnerships, only one partner/director needs to fall within the prescribed age bracket.
Educational Qualification
For IT/e-commerce businesses, applicants must have at least passed matriculation or acquired an equivalent degree.
No minimum education required for other business types.
Nature of Business
Applicants must own either a startup or an existing Small and Medium Enterprise (SME).
Those engaged in the agriculture sector as per State Bank's criteria are also eligible.
Citizenship
Applicants must hold a valid Computerized National Identity Card (CNIC) of Pakistan.
Loan Size and Limits For PM'S Youth Loan Scheme
The loan amount is segregated into 3 tiers:
Tier 1
This tier is not covered under the scheme.
Tier 2
Above PKR 0.5 million and up to PKR 1.5 million
Tier 3
Above PKR 1.5 million and up to PKR 7.5 million
A borrower can avail a maximum of 2 loans within the overall limit of PKR 7.5 million. This includes one long-term and one short-term loan.
For agriculture, one production loan and one development loan allowed within the same limit.
Type of Financing Offered By PM'S Youth Loan Scheme
The loan can be used for:
Term loans
Working capital loans
Murabaha financing
Leasing
Locally manufactured vehicles for commercial use
Only one vehicle allowed per borrower. Food and distribution businesses can get more than one vehicle financed.
Maximum 65% of the loan can be used for civil works.
Agriculture production and development loans are also eligible.
Loan Tenor
For Tier 2 & 3, long-term and development loans can have a tenor of up to 8 years with a maximum grace period of 1 year.
Working capital and production loans can have a tenor of up to 5 years.
An option of 2 years of markup-only payments followed by principal repayment in 3 years is also available for working capital/production loans. This makes the total tenor up to 5 years.
Debt-to-Equity Ratio
For new businesses:

Tier 2 – 90:10
Tier 3 – 80:20

The borrower's contribution of equity must be made after loan approval. This can be in the form of cash or immovable property.
No equity required for existing businesses under any tier.
End-User Interest Rates
Tier 2 – 5%
Tier 3 – 7%
Low interest rates make loans affordable.
Collateral Requirements
Tier 2 – Only clean loans requiring a personal guarantee. No collateral.
Tier 3 – Collateral as per bank's policy.
Financed vehicle(s) will also serve as collateral.
Relaxed collateral requirements make the scheme business-friendly.
Sectors and Products
All sectors like manufacturing, trade, services etc. are eligible.
All products can be financed under the scheme.
Agriculture sector includes crops, livestock, poultry, fisheries, dairy etc.
The wide scope covers most business and agricultural activities.
Online Application: PM'S Youth Loan Scheme
Applications must be submitted online via the PM Youth Program Portal.
The portal provides forms in both English and Urdu languages.
Applicants can directly apply to banks of their choice through the portal for processing.
The centralized system makes applying easy and hassle-free.
Geographical Scope
The loan scheme is available for eligible applicants across Pakistan.
Rural and urban areas are both covered.
Fees and Charges
A minimal processing fee of PKR 100 applicable.
Other charges like insurance, documentation etc. as actual.
Reasonable fees enable wider participation.
Analyzing the Loan Scheme
The PM's Youth Business & Agriculture Loan Scheme has several positive features:
Simple Eligibility
The eligibility criteria are straightforward and easy to meet.
Minimum fuss allows wider participation.
Employment Generation
New businesses and growth of existing SMEs will create jobs.
Agricultural productivity enhancement will support rural livelihoods.
Skill Development
Hands-on experience in managing enterprises and farms will build business skills.
Learning by doing will develop entrepreneurial spirit.
Innovation and Competitiveness
Efficient new businesses and farms will improve productivity and quality.
Access to finance will enable adoption of modern techniques.
Competitive edge of youth-led ventures will improve.
Women Empowerment
Women entrepreneurs and farmers will benefit from easy availability of capital.
Financial inclusion and participation in economy will empower women.
Financial Inclusion
Simplified loan access will promote financial inclusion of youth.
Unserved and underserved segments to enter formal financial system.
Rural Transformation
Agricultural loans will support rural income generation.
Farm mechanization and scale will drive rural transformation.
Economic Multiplier Effect
Enterprise development and agriculture growth will have multiplier effects.
Production, incomes and aggregate demand will rise.
Concerns and Challenges
While the loan scheme has potential, some concerns and challenges need attention:
Need for Entrepreneurial Skills
Many young people may lack business planning and management skills.
Capacity building should accompany easy capital access.
Loan Misutilization Risk
Cases of loan misuse for consumption may arise if end-use not monitored.
Diversions can reduce funds available for productive investment.
High Business Failure Rate
Startup failure rates are high due to teething issues and competition.
Failed ventures may add to bad loans of banks.
Agricultural Risks
Production uncertainties due to weather, pests etc. exist.
Market fluctuations make farming income unstable.
Loan defaults may rise in case of crop failures or low prices.
Urban Bias
Rural youth may face accessibility issues in borrowing.
Low financial literacy can deter loan applications.
Gender Disparities
Social restrictions may limit women's ability to avail loans.
Male dominance in ownership of assets can exclude women.
Implementation Challenges
Banks may avoid small loans due to handling costs.
Process efficiency critical for timely approval and disbursal.
Monitoring of end-use and recovery needs focus.
What Will You Need To Apply For The Loan Scheme
Here are the documents you will need to complete your application.
You must have passport size picture
Scanned copy of CNIC (Front Side)
Scanned copy of CNIC (Back Side)
All Latest educational degree or certificate (Matric, FA/FSc, Bachelor, Master, PhD etc.)
Experience certificate(s), if any
License or registration with a chamber or trade body, if any
In the case of an existing business, a recommendation letter from the respective chamber, trade body or union
Financial statements
Proper Business plan
Last 6 months' bank statements
You Must Have The Following Information Handy Before You Start Your Application:
| English | Urdu |
| --- | --- |
| National Tax Number, in case you don't have one please register at link | نیشنل ٹیکس نمبر، اگر آپ کے پاس نہیں ہے تو براہ کرم اس لنک پر رجسٹر کریں: لنک |
| Consumer ID of Electricity bill of your current address. (NITB to link image of where consumer ID is written on electricity bill) | موجودہ پتے پر آنے والے بجلی کے بل کا شناختی صارف نمبر |
| Consumer ID of Electricity bill of your current office address, if applicable. | موجودہ دفتر کے پتے پر آنے والے بجلی کے بل کا شناختی صارف نمبر، اگر قابل اطلاق ہے |
| Complete Registration number of any vehicle registered in your name, if applicable. | آپ کے نام رجسٹر ہوئی کسی بھی گاڑی کا مکمل رجسٹریشن نمبر، اگر قابل اطلاق ہو۔ |
| Name, CNIC and Mobile numbers of Two References other than Blood relatives. | اپنے قریبی رشتہ داروں کے علاوہ کسی بھی دو افراد کے نام، قومی شناختی کارڈ نمبر اور موبائل نمبر |
| An estimate of Monthly business income, business expenses, household expenses and other income should be available with you in case of new business while in case of existing business please provide actual Monthly business income, business expenses, household expenses and other income, if any details. | انئے کاروبار کی صورت میں ماہانہ کاروباری آمدنی، کاروباری اخراجات، گھریلو اخراجات اور دیگر آمدنی کے تخمینے، جبکہ موجودہ کاروبار کی صورت میں حقیقی کاروباری آمدنی، کاروباری اخراجات، گھریلو اخراجات اور باقی آمدنی۔ |
| Please Note: | نوٹ |
| a. Please sign up to submit application. | درخواست جمع کرانے کے لئے سائن اپ کریں |
| b. You must have a mobile number registered in your name to start this application on which Bank shall communicate with you. | جس موبائل نمبر پر بنک آپ سے رابطہ کرے گا. اس نمبر کا آپ کے نام پر ہونا ضروری ہے۔ |
| c. This application shall take at least 15 minutes to complete subject to availability of above listed information. | مذکورہ بالا معلومات کی دستیابی کی صورت میں یہ درخواست مکمل کرنے میں کم سے کم 15 منٹ درکار ہوں گے |
| d. You may complete the form in one go or save a draft for submission later on. | آپ فارم ایک بار میں بھی مکمل کرکے جمع کروا سکتے ہیں یا بعد میں جمع کرانے کے لیے ڈرافٹ محفوظ کر سکتے ہیں۔ |
| e. Please upload as much information as you have e.g. Financial Statements, Business Feasibility, Last 6 months Bank statement, etc. This shall help to better evaluate your application. | براہ کرم آپ کی درخواست پر بہتر طریقے سے نظر ثانی کرنے کے لئے ذیادہ سے ذیادہ معلومات اپلوڈ کریں۔ |
| f. Once the form is submitted, your application registration number shall appear on the screen and you will also receive SMS stating the same, please keep it safe. | فارم جمع کرانے کے بعد آپ کی درخواست کا رجسٹریشن نمبر اسکرین پر آئے گا اور آپ کے رجسٹرڈ نمبر پر ایس ایم ایس بھی بھیجا جائے گا، براہ کرم اس رجسٹریشن نمبر کو اپنے پاس محفوظ رکھیں۔ |
| g. You will receive SMS once your application moves to next stage of process, however you may check your submitted application status on this web site as well. | آپ کی درخواست اگلے مرحلے میں بھیجی جائے گی تو آپ کو ایس ایم ایس موصول ہوگا، تاہم آپ جوان پروگرام کی آفیشل ویب سائٹ پر بھی اپنی درخواست کا سٹیٹس چیک کر سکتے ہی |
                                                                                                           

|



How To Apply For The New Youth Business Loan Scheme In Pakistan: Steps
Open the registration portal by clicking here. If that doesn't work, please type PMYP.GOV.PK in the browser.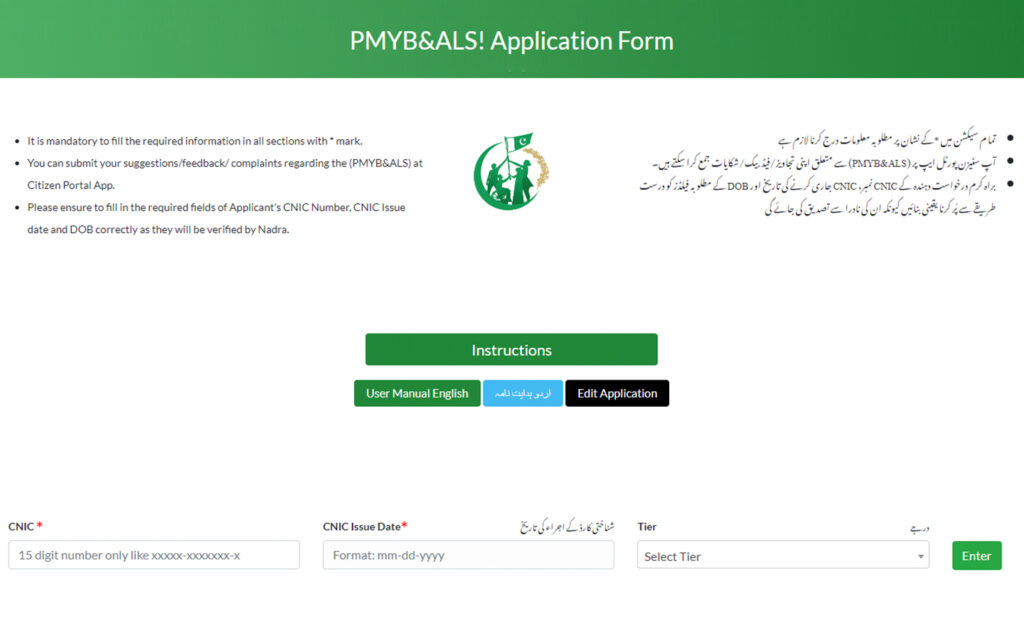 Click on the 'Instructions' button and thoroughly read each pointer to avoid any confusion.
Add your CNIC number, the CNIC issue date, and select a tier:
Tier 1: A loan of up to PKR 5 lakh with 0% markup
Tier 2: A loan of up to PKR 15 lakh with a 5% markup
Tier 3: A loan of up to PKR 75 lakh with a 7% markup
Click enter to get redirected to the application form
The form is divided into multiple sections. Start with Section A: Initial Selection and fill in the relevant fields to the best of your ability. Please note that fields marked with an asterisk (*) must be filled.
Once you are done with all nine sections, add the details of your chosen references in the relevant fields. These details include their names, your relation to them, their CNIC numbers, and their mobile numbers.
At the end of the form, you will see a Declaration Form. Please recheck your application at least twice before signing the last section.
Note: All of the information you've entered will be checked by NADRA. You also cannot make any corrections or changes after submitting the form.
Further, applicants can save their progress at any time or choose to submit the form in one sitting. Although if you have all of your documents on hand, the registration will take around 30 minutes or less.
Prime Minister's Youth Business & Agriculture Loan Scheme 2023 Details In Urdu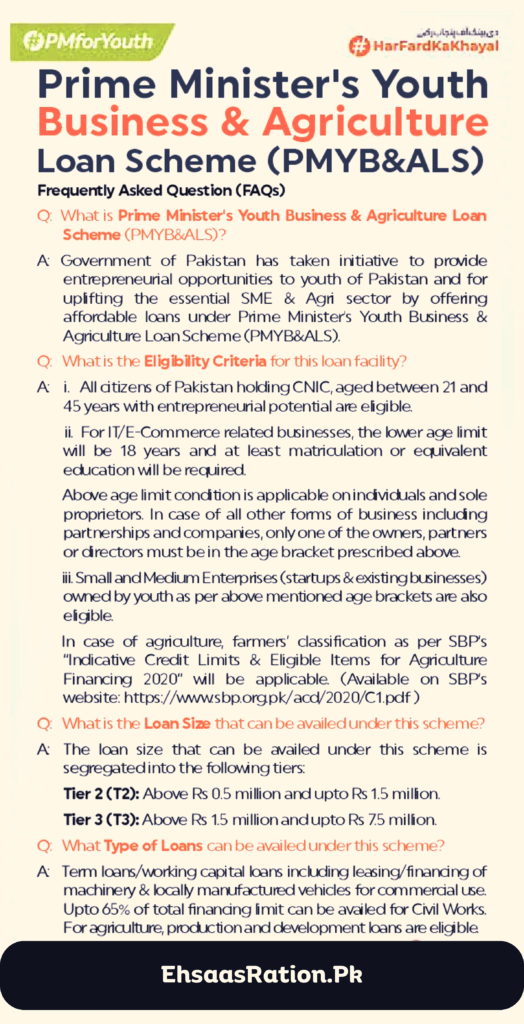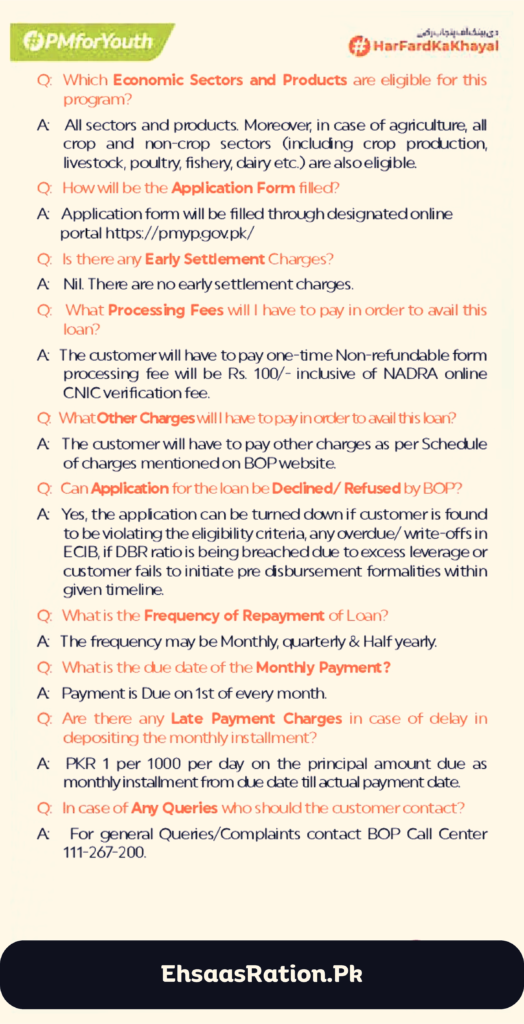 How to apply for Prime Minister Youth Business & Agriculture Loan Scheme 2023 | PMYB&A Loan Scheme
Suggestions for Effective Implementation: PM'S Youth Loan Scheme
Some recommendations to enhance the loan scheme's effectiveness:
Streamline Lending Operations
Simplify loan processes, documentation and appraisal.
Use fintech to automate procedures and speed up approval.
Decentralize sanctioning powers for quicker decision-making.
Robust Risk Management
Assess repayment capacities rigorously during underwriting.
Monitor end-use discipline through field visits.
Control diversion risks through partial disbursals linked to progress.
Adopt Cluster-based Lending
Finance clusters of localized businesses and farmers.
Closer engagement, peer support and group pressure to repay.
Lower handling costs due to scale economies.
Prioritize Rural Areas
Push loans in villages through awareness campaigns.
Partner with grassroots NGOs and cooperatives.
Customize products for farm needs.
Focus on Women Borrowers
Have women relationship managers for client engagement.
Relax collateral for women proportional to repayment capacity.
Provide mentoring support to women applicants.
Capacity Building of Youth
Impart entrepreneurship and technical training.
Offer counselling services for troubleshooting.
Help tap govt schemes on skill development.
Robust Grievance Redressal
Have multiple channels to address queries and complaints.
Fix service standards for complaint resolution.
Ensure action against erring bank staff.
Use Technology Extensively
WhatsApp for fast query handling.
SMS alerts on application status.
Dashboards for real-time monitoring.
Expand Awareness Campaigns
Use digital media extensively for outreach.
Partner with youth networks and influencers.
Sponsor motivation camps and success meets.
Conclusion: PM'S Youth Loan Scheme
The PM's Youth Business and Agriculture Loan Scheme has immense potential for unlocking the entrepreneurial energy of youth and powering Pakistan's economic growth.
By facilitating easier access to financing for young aspirants, it can stimulate employment generation, skill development, innovation, women empowerment and financial inclusion.
Effective on-ground implementation by banks, robust risk management and addressing capacity constraints will be key to realizing the scheme's objectives.
With prudent execution, it can ignite rural transformation and enterprise development led by passionate young changemakers.
FAQs about Prime Minister's Youth Business & Agriculture Loan Scheme
As per PMYB&ALS, a customer may avail maximum two loans. It may please be confirmed, if two loans can be availed at one point in time, or the first loan has to be repaid before availing the second loan as was the case under PMKJ–YES. 
Answer: As per IH&SMEFD Circular No 12 of 2022 (Sr. No. 10 of key features of PMYB&ALS), a customer may avail two loans (one short term and one long term) simultaneously within the overall financing limit of PKR 7.5 million. Thus, two loans may be availed at the same time.
Under the scheme, an individual can avail two loans (ceiling PKR 7.5 million) i.e. short term and long term simultaneously. In a scenario where short term loan is for PKR 1.5 million and long term is for PKR 6.0 million, will the markup charged to customer be 7% on the whole amount or 5% and 7% on both loans, respectively? 
Answer: The mark-up will be charged separately on both short term and long term loans as per respective loan tier.
Who will report loan wise subsidy claims to Development Finance Support Department (DFSD), SBP BSC i.e. wholesale lenders or Microfinance Provider (MFPs) i.e. MFBs/MFIs? 
Answer: Wholesale lenders will submit their own as well as their MFPs subsidy claims to DFSD, SBP BSC. DFSD will make payment of subsidy claims including the amount of MFPs to wholesale lenders after release of subsidy by the Finance Division. Thereafter, wholesale lenders will make subsidy payment to MFPs.
Under PMYB&ALS, we understand that there seems to be no restriction on repayment cycle (could be monthly, quarterly, lump sum repayment etc.), however, subsidy will be calculated on outstanding balance at month end. 
Answer: As per the IH&SMEFD Circular No 12 of 2022, (Sr. No. 10 of key features of PMYB&ALS), tenor of T1 loans will be up to 3 years and repayment will be in equal monthly installments.
However, in case of crop loans, tenor will be up to 1 year and repayment will be lump sum on or before maturity, tied-up with the crop cycle. Regarding T2 & T3 loans, there is no such restriction regarding loan repayment. Further, markup subsidy on all loans will be calculated on outstanding balance at respective month end.
How a wholesale lender will give credit to MFPs under Tier 1?
Answer: Wholesale lenders and MFPs will sign agreements containing detailed terms and conditions regarding the provision of wholesale funding.
MFPs will finalize the list of approved applications and request wholesale lenders to release the funds for making disbursement to borrowers. MFPs will make funding request to wholesale lenders after approving applications amounting to Rs 50 million or higher as per their agreement.
Wholesale lenders will release funds to MFPs on next working day after receiving funding request. MFPs are allowed a grace period of 7 days from the date of receiving funds from the wholesale lenders for disbursement to the approved applicants.
In case, MFPs are unable to disburse wholesale funds to the approved applicants within 7 days, the wholesale lenders may recover their cost of funds as per their agreement with MFPs.
What would be the way forward if a borrower of MFP misses an installment? Would it affect wholesale lender's recovery for that month as well? 
Answer: The repayment schedule of wholesale funding will be agreed between MFPs and the wholesale lenders. However, for funding costs and cash flow management, a grace period of up to 7 days is allowed between repayments from clients to MFPs.
What is the criteria for categorization of loan status under PMYB&ALS? 
Answer: The loans will be categorized as Regular, OAEM, Substandard, Doubtful and Loss as per relevant SBP's Prudential Regulations in case of financing by Executing Agencies (EAs) i.e. banks and MFBs regulated by SBP. Similarly, in case of SECP regulated EAs i.e. MFIs, Non-Banking Finance Companies & Notified Entities Regulations, 2008 of SECP shall apply.
If the status of loan is classified as "Loss", then EAs will stop claiming "service charges subsidy" onwards for that particular borrower.
EAs will claim credit loss subsidy against loans classified as "Loss". However, EAs can claim service charges subsidy in subsequent months, if the status of "Loss" classified loans is subsequently revised to "Regular". However, in such cases, where EAs have received subsidy claims against Loss cases, subsidy claimed will be returned to DFSD, SBP BSC or the same will be adjusted by EAs by netting it off from the next quarter loss claim/service charges subsidy claim.
Government will bear credit losses (principal portion only) on the disbursed portfolio of the EAs up to 50% on T1 loans which includes 40% for wholesale lenders on pari-passu basis and 10% for MFBs/MFIs on first loss basis, 25% on T2 loans and 10% on T3 loans. EAs will calculate loss ratio by dividing total amount in loss category by total disbursed portfolio under the scheme.
What is the grace period for loans under PMYB&ALS? Is it mandatory to extend grace period?  
Answer:  As per approved features of the PMYB&ALS, grace period of up to one year is allowed under T2 and T3 loans. However, there is no such mandatory grace period requirement for T1 loans, hence, the matter of grace period under T1 may be mutually agreed by the EAs and the borrowers.
What does EMI stands for? 

 
Answer: EMI stands for Equal Monthly Installment. EMI arrangement allows the borrowers to repay the same amount every month.
How many applications can an applicant upload through a single CNIC/SNIC? Is there any limitation? 
Answer: One applicant can upload maximum two applications against his/her CNIC/SNIC.
Can an Executing Agency assist its customers to apply for the loan?
Answer: EAs are allowed to assist applicants in applying for the loan under PMYB&ALS.
The PMYB&ALS is a government scheme. Please clarify whether SBP Prudential Regulations (PRs) for Agri. Finance and SME Finance are applicable on financing to MSMEs and Agriculture borrowers under PMYB&ALS. Further, in case of any conflict between approved features of PMYB&ALS and SBP PRs, which will prevail?
Answer: Relevant Regulations of SBP/SECP will be applicable as per type of loan i.e. Micro/SE/ME or Agriculture. However, in case of any difference, instructions mentioned in the PMYB&ALS circular/circular letters will prevail.
Whether the debt swap of outstanding credit facilities of an existing customer of EA to PMYB&ALS is permissible? 
Answer: Debt swap under the scheme will defeat the objective. Main aim of PMYB&ALS is socioeconomic uplift of MSME & agriculture sectors, generation of economic activity and additional employment opportunities. Thus, debt swap of outstanding credit facilities of existing customers is not permissible under PMYB&ALS.
Maximum age of applicant is 45 years. If the age of applicant at the time of application is 44 years, can we allow credit facility for more than one year (i.e. beyond 45 years threshold). 
Answer: Age criteria is for the eligibility of applicant at the time of submission of application only. The scheme does not impose any limitation on loan tenor with respect to age of the applicant afterwards.
Whether EAs are allowed to extend non-funded facilities under PMYB&ALS?
Answer: The scheme provides funded loan facilities only; hence, non-funded facilities do not fall under the purview of PMYB&ALS.
Can an executing agency finance locally manufactured e-bikes/motorcycles/rickshaw/cars for business purpose under the scheme? 
Answer: Yes, any vehicle which can be used for business purposes may be financed under the scheme.
Can Government employees avail financing under the scheme?
Answer: No.
What scheme says regarding making payment to a borrower or a supplier?
Answer: Disbursements can be made to the borrower or to the supplier as per the agreement between the bank and the borrower. 
A person being guarantor of another person's loan under PMYB&ALS can himself apply for the loan under the scheme or not?
Answer: A person being guarantor for loans to other person under PMYB&ALS cannot apply for the loan under the scheme.
Can the loan be disbursed in tranches? If yes, in how many tranches it can be disbursed?
Answer: The loan under PMYB&ALS can be disbursed in tranches up to the amount approved by the bank and there is no restriction on the number of tranches that can be disbursed.
Is there a minimum amount of loan under Tier 1 which can be financed? 
Answer: There is no minimum amount of loan under Tier 1 and financing is allowed up to maximum limit of PKR 0.5 million as per business needs of customer.
In case of vehicle Ijarah, Islamic banking institutions usually start recovering payment from borrower after the delivery of vehicle, rather than from date of facility disbursement. Accordingly, date of expiry will also be calculated after the car has been delivered. Whether the same principal can be applied on disbursements through Islamic mode under the scheme for calculation of facility expiry date or not? 
Answer: Islamic banking institutions can use date of delivery of vehicle as date of disbursement of facility for subsidy claims.
References: