Unconditional cash transfer programs have a remarkable impact on addressing the financial needs of beneficiaries. Moreover, they play a crucial role in lifting people out of extreme poverty in the long run. The effectiveness of cash transfers greatly depends on their implementation, coverage, target population, and budget allocation.
Unconditional cash transfers are particularly suitable for chronic poverty, disease, transitory shocks, emergencies with inadequate food supply, and more. From a supply-side perspective, they are cost-effective since it is cheaper to deliver cash directly to the beneficiaries. On the demand side, these transfers grant individuals the freedom to choose how they spend the cash they receive, allowing them to prioritize according to their own needs and preferences.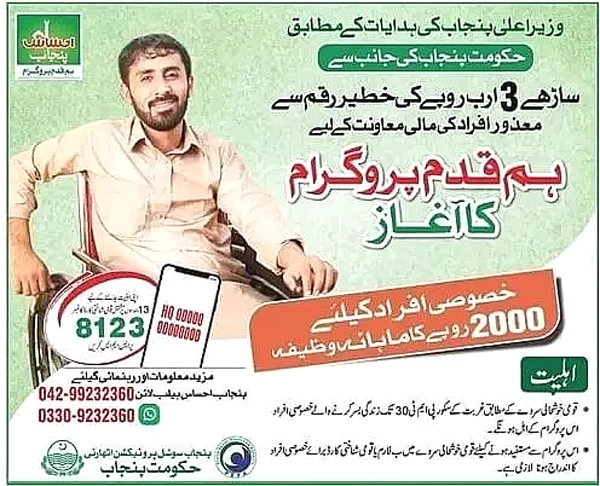 Persons with Disabilities (PWDs) in Pakistan and Punjab often rely on others for both economic and physical support. Unfortunately, the public sector in these areas provides very little assistance for PWDs. The support that is available is typically limited to one-time or annual assistance, leaving a significant gap in coverage and regular financial aid for PWDs.
Humqadam Program Objectives:
Enhance social inclusion for individuals with disabilities in Punjab.
Improve the economic prospects and sustainability of individuals with disabilities.
Promote independence and reduce the need for support from their social network.
Ehsaas Hum Qadam Program 8123 Apply Online 2023
The initiative started on 3rd December 2022 for persons with disabilities (PWD). They receive an unconditional cash transfer of Rs 2000 each month. To apply online for the Ehsaas Hum Qadam program, go to "www.pspa.gov.pk" and click on the check eligibility option. The Government of Pakistan has also started the Ehsaas Rashad Rayat program for low-income people. To apply for 8123 online check, visit "Ehsaas Rashan" Website.
Ehsaas Hum Qadam Program 2023 Registration
To determine eligibility for the Ehsaas Hum Kadam Program, individuals can check online through the PSPA online application. The following criteria must be met to be considered eligible.
To qualify for the NSER survey, the proxy means test (PMT) score must be 30 or below.
In order to have legal documentation, individuals under the age of 18 should possess a special NADRA card/B-form.
Sr. #

| | |
| --- | --- |
| Launched Under | Punjab Ehsaas Program |

Punjab Humqadam Program
1
Why did it launch for?
Disabled person
2
What is the Sarparast Program Amount?
Rs. 2000/-
3
Validity
Monthly Basis
4
Total Budget
4.5 Arab Rupees
5
Eligibility
NADRA Registration For Disabled Persons
6
Hum Qadam Program SMS Code
8123
Ehsaas Hum Qadam Program App
The Ehsaas Humqadam Program app can be downloaded from the Google Play and Apple App Store. It is designed to facilitate the application process and provide financial assistance to eligible individuals.
The App Allows You To:
You can apply for the Ehsaas Hum Qadam Program.
Please verify the current status of your application.
You will receive updates and notifications about the program.
Please seek out information regarding the program's eligibility criteria, the application process, and the benefits it offers.
Please reach out to the program's support team if you require any assistance.
PM Ehsaas Ham Qadam Program 2023 SMS
A budget of 3500 million Rupees has been allocated for providing financial assistance to disabled individuals. There are two methods available for applying to the scheme.
To verify your identity, please send your CNIC card number (without dashes) from your registered sim to 8123.
To use the Other method, simply enter your NADRA card/B-form number with a space and send it to 8123.
"HQ (Space) 1234567899****"
Punjab Hum Qadam Program 2023
Disabled individuals in Punjab face a lack of support, particularly in terms of financial aid. The government of Punjab has implemented an initiative to provide monthly financial assistance of Rs 2000 to disabled individuals.
Those affected by conditions such as CVA or chronic diseases that hinder their daily functioning are eligible to apply for this program.
Ehsaas Hum Qadam Program 2023 Registration By SMS
Assisting individuals with disabilities in performing their duties is important. The Government of Pakistan has initiated the hum Qadam program, and disabled individuals can apply online through the 8123 program by providing their ID card number without hyphens.
Ehsaas 8123 Hum Qadam Program Online Registration
The Ehsaas Humqadam program is a social welfare initiative that provides financial assistance to individuals who are paraplegic, quadriplegic, or paralyzed, in order to help them meet their daily needs. Disabled individuals receive a monthly cash amount of Rs 2000 under this scheme.
Ehsaas Humqadam Program Application
For more information about this initiative, please visit Humqadam Program Website.
Ehsaas Hum Qadam Program SMS Code
The Punjab government has introduced an SMS code which allows individuals to apply for the plan by sending their Nadra ID card number to 8123.
How Do I Register Online For The Ehsas Humqadam Program 2023?
The registration process for the Ehsaas Hum Qadam Program may vary depending on the specific requirements and instructions provided by the program authorities.
However, registration for the program is generally done online by following these steps.
Visit the Ehsaas Program's official website via their online portal.
Locate and click on the "Registration" or "Apply Now" button on the homepage.
Fill out the online registration form with your personal and contact details, including your name, CNIC number, address, phone number, and email address.
Include information about your family members, such as their names, identification numbers, and their relationship to you.
Detail your income and employment status, including your occupation, monthly income, and current employment situation.
Disclose any information concerning disabilities or special needs that you or your family members might have.
Review your application thoroughly before submitting it through the online portal.
Ehsaas Hum Qadam Program Terms And Conditions
The Terms And Conditions Are Adhered To.
Pakistani Citizens
NADRA card holders with the mentioned disability are eligible.
A proxy means test score of 30 or less indicates eligibility.
Ehsaas Hamqadam Program Helpline Number
Office Address: 78-79, 9 D block new Muslim town, Wahdat Road Lahore.
Phone#: 042-99232359-60
Working Hours: 9.00 AM – 5:00 PM
Email Address: info@pspa.punjab.gov.pk
FAQs: Ehsaas Hamqadam Program
1. What is the Humqadam Program in Punjab, Pakistan?
The Humqadam Program is a social welfare initiative by the Punjab government aimed at supporting the less privileged in society.
2. Who is eligible for the Humqadam Program?
Eligibility for the Humqadam Program typically depends on socioeconomic factors, including income level and employment status.
3. How can I apply for the Humqadam Program?
You can apply for the Humqadam Program through the official Ehsaas Program online portal, where you'll find the registration form.
4. What benefits does the Humqadam Program offer?
The Humqadam Program provides various benefits, including financial support, business development assistance, and resources for women and youth empowerment.
5. How long does it take to process my application?
The processing time for applications can vary, but you should expect to hear back within a few weeks of submitting your application.
6. Can I apply for the Humqadam Program if I have a disability?
Yes, individuals with disabilities are encouraged to apply for the Humqadam Program, which provides specific support for disabled persons.
7. What information do I need to provide when applying?
You'll need to provide personal and contact information, details about your family members, income and employment details, and any information about disabilities or special needs.
8. How will I receive my benefits if my application is approved?
The method of benefit distribution can vary, but it often involves direct deposit or physical checks.
9. Can I reapply if my application is rejected?
Yes, if your application is rejected, you can typically reapply after a certain period or if your circumstances change.
10. Who can I contact if I have questions about the Humqadam Program?
For any questions about the Humqadam Program, you can reach out to the Ehsaas Program's official contact channels, as listed on their website.
Are You New To EhsaasRation?
If you are new to EhsaasRation.pk, then here are a few resources that will help you: